Connected Vehicle Pilot Documents Boost CV Deployment Worldwide
The U.S. Department of Transportation (USDOT) Connected Vehicle (CV) Pilot Program involves enabling vehicle-to-vehicle, vehicle-to-infrastructure, and vehicle-to-pedestrian communication to support CV applications. These applications will improve safety and mobility and reduce environmental impact. The three pilot sites - Tampa-Hillsborough Expressway Authority (THEA) Pilot, New York City Department of Transportation (NYCDOT) Pilot and Wyoming Department of Transportation (WYDOT) Pilot – have documented each step of their planning and deployment in a series of reports that are available on the USDOT CV Pilot publications web page. The three sites have also hosted numerous webinars that are open to the public. Recordings of these webinars are available online.
Material provided by the CV Program has helped to establish the USDOT as a world leader for information about CV applications, design, and deployment experience, as well as a leader in developing standards for communication and security of CV data. This leadership contributes to the interoperability of CV technology on an international level, with U.S. standards playing a strong role (note the statement below of South Korea's adoption of U.S. standards). Nations that are following the progress of the CV Pilots, adapting the U.S. systems designs and standards, and using software available through the USDOT's Open Source Application Development Portal (OSADP) are more likely to design and implement their CV applications along U.S. principles, thus increasing the worldwide marketability of U.S. hardware and software products.
CV Pilot documents describing such topics as Concept of Operations (ConOps), System Design, Application Deployment, Safety, Security, Human Use Considerations, and Performance Measurement, are available to be used by any jurisdiction worldwide that is planning CV deployment. This report summarizes how three foreign agencies have been using material provided through the leadership of the USDOT CV Pilot program.
Austroads, the lead CV agency in Australia and New Zealand, periodically checks the USDOT site to see what progress is

being made on the pilots and to check for updates on policy developments. Austroads reports the following:
There are many synergies with Australia's and New Zealand's projects.
Austroads researchers have read most of the documentation currently available on the website.
The resources have helped form and validate the delivery strategy, including identification of the type of documentation required. The resources have also informed development of technical solutions through lessons learned.
The Cooperative and Automated Vehicle Initiatives Team in the state of Queensland in Australia:

Has reviewed all the CV Pilot ConOps to inform the development of their own ConOps, since in some cases there are overlapping use cases/ applications
Has reviewed the lessons learned and incorporated them into their lessons learned register as applicable.
Has been in direct contact with the USDOT Security Certificate Management System (SCMS) Lead and the CV SCMS provider.
Has regarded the Webinar PowerPoints/ recordings as very useful summaries.

The Queensland Communications Officer reviews the Tampa site frequently:

Website – she refers to this at least twice a week.
Participant information and fact sheets, videos, supporters' kits, media releases and social media posts.
Resources, including what public officials need to know about connected vehicles, connected vehicle basics, how connected vehicles work, human use approval summary, and participant training and stakeholder education plan.
She also set up a teleconference to catch up with the Tampa project team to discuss their public communications/ participant recruitment strategy, as she is very impressed with their approach.

New Zealand's Associate Minister recently visited New York City, where she met with CV Pilot partners and NYCDOT.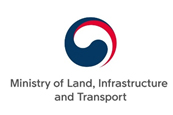 The Ministry of Land, Infrastructure, and Transport (MOLIT) Connected Intelligent Transportation System (C-ITS) program in South Korea has been studying the Concept of Operations and system design documents of the CV Pilot program, as well as those of the previous Safety Pilot Model Deployment (SPMD) program. These documents are directly applicable to South Korea's K-City testbed, and real-world deployments in Daejeon and Sejong. South Korea expects that the world market for CV products will be based on U.S. standards and specifications. The Korean C-ITS program has been paying particular attention to the U.S. standards, such as J2735 and IEEE 1609, and the specifications for Onboard Units (OBUs) and Roadside Units (RSUs) based on them. (These standards include RSU Spec 4.0, Aftermarket Safety Device (ASD) Spec 3.1, and the Vehicle Awareness Device (VAD) Spec 3.6.) The goal of the Korean C-ITS program is to ensure that South Korean CV products will be suitable for international sales.
The table below shows the correspondence between CV Pilot applications and applications that are part of the Korea C-ITS pilot project being deployed by the Korea Expressway Corporation. Each row shows the parallel U.S. and Korean applications. The C-ITS pilot program reports that documentation from the U.S. CV Pilot applications has been especially useful.
| | |
| --- | --- |
| USDOT CV Pilot | Korea C-ITS Pilot |
| Probe Enabled Traffic Monitoring | Location Based Vehicle Data Collection |
| Curve Speed Warning | Hazardous Location Notification |
| Spot Weather Impact Warnings | Road Feature and Weather Notification |
| Reduced Speed / Work Zone Warnings | Road Work Zone Warning |
| Red Light Violation Warning, Eco-Approach and Departure at Signalized Intersections | Signalized Intersection Violation Warning |
| Intersection Movement Assist | Intersection Right Turn Conflict Warning |
| Reduced Speed / Work Zone Warning | School/Silver Zone Warning Data Collection |
| Pedestrian In Signalized Crosswalk | Pedestrian Collision Warning |
| Forward Collision Warning | Forward Collision Warning |
| Incident Scene Work Zone Alerts | Vehicle SOS Service |

The Ministry of Land, Infrastructure, Transport, and Tourism (MLIT) in Japan, leads the Connected Intelligent Transportation System (C-ITS) Program for Japan's highway system. Japan's Electronic Toll Collection (ETC) system supports over 50 million vehicles, over 2 million of which possess Dedicated Short Range Communication (DSRC) transponders. The ETC system has been expanded to ETC 2.0, to include probe vehicles and Vehicle-to Infrastructure messages such as weather, road condition, and hazard avoidance alerts, similar to those being deployed in the Wyoming CV Pilot deployment. For that reason, MLIT staff have paid particular attention to the documents from WYDOT.
The CV Pilot document cited as most helpful is the Data Management Plan, which describes how Basic Safety Messages (BSMs) collected from vehicles, as well as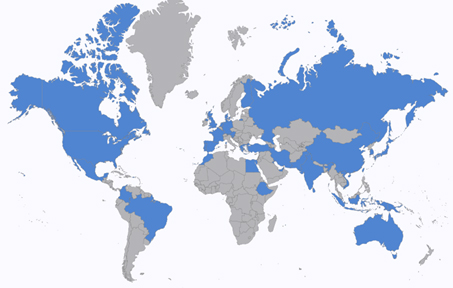 road condition data such as that collected and provided in Wyoming by Pikalert, will be stored and processed. The Data Management Plan is also useful from the standpoint of integrating traffic data across the six private companies that operate the country's tollways. MLIT staff also noted that CV Pilot webinars on connecting OBUs to vehicle controller area networks (CAN buses) were useful.
Many of the CV applications being used in the CV Pilot deployments are available in some form from the OSADP maintained by the USDOT CV Program. As reported in the map to the right, downloads of software applications related to the CV Pilot program include downloads from researchers in Brazil, Canada, Germany, India, Indonesia, Korea, Mexico, Netherlands, Pakistan, Russia, Spain, Taiwan, United Arab Republic, United Kingdom, Vietnam and more.