CV Pilots Device Deployment Status
The Connected Vehicle (CV) Pilots intend to accelerate the deployment of interoperable connected vehicle technologies by:
Spurring innovation among early adopters of connected vehicle application concepts.
Encouraging partnerships among multiple stakeholders required to deploy and manage connected vehicle concepts.
Demonstrating the potential safety, mobility and environmental benefits associated with connected vehicle deployments.
Creating sustainable momentum for nationwide deployment of connected vehicle technologies
Following a two-year period of designing, testing and integrating the components of their CV systems, the WYDOT, NYCDOT and THEA CV Pilot sites are now actively deploying the equipment needed to support their operational concepts. In partnership with technicians from their respective City/State DOT staff – and in THEA's case, from the local community college – the CV Pilot sites are performing a complete field installation of the roadside units (RSUs) and onboard units (OBUs) that enable the Vehicle-to-Vehicle (V2V) and Vehicle-to-Infrastructure (V2I) communications needed for the functioning of their safety and mobility CV applications.
The figures below provide an updated status on:
The current number of installed devices compared to the targeted number of installed devices.
Timelines that summarize how the installations of the devices have progressed over time.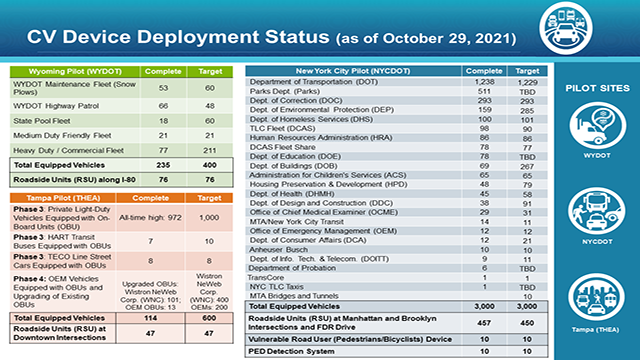 Click image to enlarge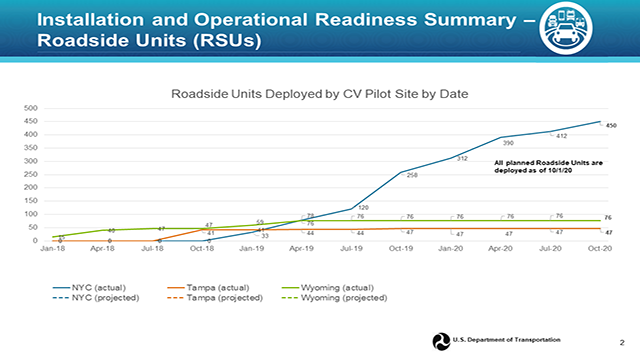 Click image to enlarge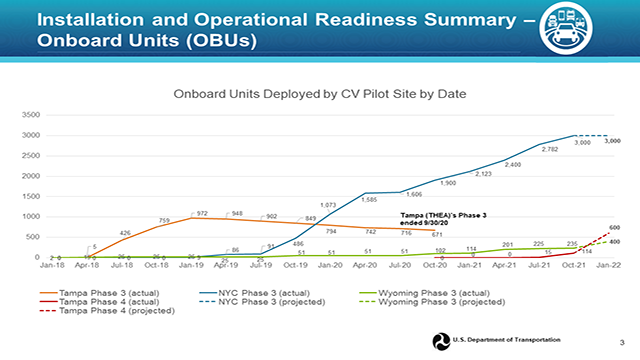 Click image to enlarge