ITS Deployment
Tampa (THEA) Pilot
Resources

Tampa-Hillsborough Expressway Authority (THEA) owns and operates the Selmon Reversible Express Lanes (REL), which is a first-of-its-kind facility to address urban congestion. The REL morning commute endpoint intersection is on major routes into and out of the downtown Tampa commercial business district. Drivers experience significant delay during the morning peak hour resulting in, and often caused by, a correspondingly large number of rear-end crashes and red light running collisions. Because the lanes are reversible, wrong way entry is possible. Just earlier this year, a wrong-way accident killed two people there. As shown in the figure below, the THEA pilot will deploy a variety of vehicle-to-vehicle (V2V) and vehicle-to-infrastructure (V2I) applications (see Table 1) to relieve congestion, reduce collisions, and prevent wrong way entry at the REL exit. THEA also plans to use CV technology to enhance pedestrian safety, speed bus operations and reduce conflicts between street cars, pedestrians and passenger cars at locations with high volumes of mixed traffic.
The THEA CV Pilot will employ Dedicated Short Range Communication (DSRC) to enable transmissions among approximately 1,600 cars, 10 buses, 10 trolleys, 500 pedestrians with smartphone applications, and approximately 40 roadside units along city streets (see Table 2). To support this initiative, THEA will be working with their primary partners, The City of Tampa (COT), Florida Department of Transportation (FDOT) and Hillsborough Area Regional Transit (HART) to create a region-wide Connected Vehicle Task Force. The primary mission of this Task Force is to support the deployment of Connected Vehicle infrastructure in the region in a uniform manner to ensure interoperability and interagency coordination as these deployments transition from concept to planning to operations. While THEA plans to initiate this process, the intent is to work with the other partner agencies to ultimately host this task force, including funding the studies and administrative activities. To learn more about the Tampa (THEA) Pilot, please visit the Tampa (THEA) Pilot website and the Phase 1 documents. For inquiries regarding the Tampa (THEA) pilot, please contact Steve Novosad, snovosad@hntb.com.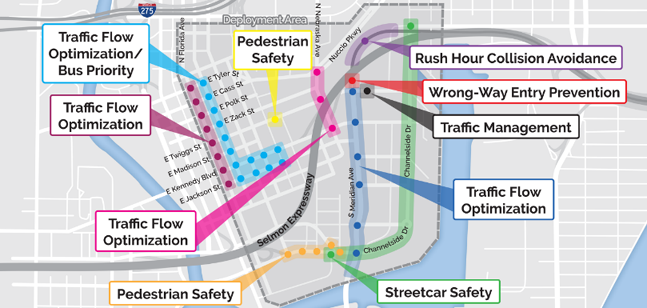 Connected Vehicle Pilot Deployment-Downtown Tampa
(Source: https://www.its.dot.gov/pilots/pdf/CVP_THEASystemDesignWebinar.pdf)
Table 1. Tampa (THEA) Pilot Site Proposed CV Applications
ID

Category

Tampa (THEA) – CV Application

1

V2I Safety

End of Ramp Deceleration Warning (ERDW)

2

Wrong Way Entry (WWE)

3

Pedestrian in Signalized Crosswalk Warning (PED-X)

4

Pedestrian Collision Warning (PCW)

5

Pedestrian Transit Movement Warning (PTMW)

6

V2V Safety

Emergency Electronic Brake Lights (EEBL)

7

Forward Collision Warning (FCW)

8

Intersection Movement Assist (IMA)

9

Vehicle Turning Right in Front of a Transit Vehicle (VTRFTV)

10

Mobility

Mobile Accessible Pedestrian Signal System (PED-SIG)

11

Intelligent Traffic Signal System (I-SIG)

12

Transit Signal Priority (TSP)

13

Agency Data

Probe Data Enabled Traffic Monitoring (PDETM)
THEA plans to deploy a total of three V2I Safety, four V2V Safety, three Mobility and one Agency Data applications.
Table 2. Tampa (THEA) Pilot Site Proposed CV Devices
| Tampa (THEA) – Devices | Estimated Number |
| --- | --- |
| Roadside Unit (RSU) at Intersection | 40 |
| Vehicle Equipped with On-Board Unit (OBU) | 1,600 |
| Pedestrian Equipped with App in Smartphone | 500 |
| HART Transit Bus Equipped with OBU | 10 |
| TECO Line Street Car Equipped with OBU | 10 |
| Total Equipped Vehicles | 1,620 |
Research Contacts

Katherine K. Hartman
CV Pilots Program Manager
ITS Joint Program Office
(202) 366-2742
Kate.Hartman@dot.gov