Resources

Wyoming is an important freight corridor that plays a critical role in the movement of goods across the country and between the United States, Canada, and Mexico. As shown in the figure below, Interstate 80 (I-80) in southern Wyoming which is above 6000 feet is a major corridor for east/west freight movement and moves more than 32 million tons of freight per year. During winter seasons when wind speeds and wind gusts exceed 30 mph and 65 mph respectively, crash rates on I-80 have been found to be 3 to 5 times as high as summer crash rates. This resulted in 200 truck blowovers within 4 years and often led to road closures. Wyoming Department of Transportation (WYDOT) CV Pilot site focuses on the needs of the commercial vehicle operator in the State of Wyoming and will develop applications (see Table 1) that use vehicle to infrastructure (V2I) and vehicle to vehicle (V2V) connectivity to support a flexible range of services from advisories including roadside alerts, parking notifications and dynamic travel guidance. This WYDOT CV Pilot is expected to reduce the number of blowover incidents and adverse weather related incidents (including secondary incidents) in the corridor in order to improve safety and reduce incident-related delays.
WYDOT will develop systems that support the use of CV Technology along the 402 miles of I-80 in Wyoming. As listed in Table 2, approximately 75 roadside units (RSUs) that can receive and broadcast message using Dedicated Short Range Communication (DSRC) will be deployed along various sections of I-80. WYDOT will equip around 400 vehicles, a combination of fleet vehicles and commercial trucks with on-board units (OBUs). Of the 400 vehicles, at least 150 would be heavy trucks that are expected to be regular users of I-80. In addition, of the 400 equipped-vehicles, 100 WYDOT fleet vehicles, snowplows and highway patrol vehicles, will be equipped with OBUs and mobile weather sensors. To learn more about the WYDOT Pilot, please visit the WYDOT Pilot website and the Phase 1 documents. For inquiries regarding the WYDOT pilot, please contact dot-cvpilot@wyo.gov.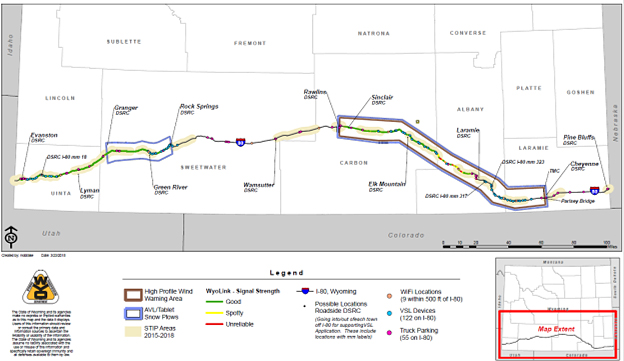 Wyoming I-80 Corridor-Connected Vehicle Map
(Source: http://www.its.dot.gov/pilots/pdf/04_CVPilots_Wyoming.pdf)
Table 1. WYDOT Pilot Site Proposed CV Applications
ID

Category

ICF/WYDOT – CV Application

1

V2V Safety

Forward Collision Warning (FCW)

2

V2I/I2V Safety

I2V Situational Awareness*

3

Work Zone Warnings (WZW)*

4

Spot Weather Impact Warning (SWIW)*

5

V2I and V2V Safety

Distress Notification (DN)
ICF/WYDOT Plans to deploy a total of five V2V and V2I Safety applications. The applications marked with asterisk have mobility/efficiency as a secondary benefit.
Table 2. WYDOT Pilot Site Proposed CV Devices
| ICF/WYDOT – Devices | Estimated Number |
| --- | --- |
| Roadside Unit (RSU) | 75 |
| WYDOT Fleet Subsystem On-Board Unit (OBU) | 100 |
| Integrated Commercial Truck Subsystem OBU | 150 |
| Retrofit Vehicle Subsystem OBU | 25 |
| Basic Vehicle Subsystem OBU | 125 |
| Total Equipped Vehicles | 400 |