Vehicle-to-Infrastructure (V2I) Resources
Vehicle-to-Infrastructure (V2I) is the next generation of Intelligent Transportation Systems (ITS). V2I technologies capture vehicle-generated traffic data, wirelessly providing information such as advisories from the infrastructure to the vehicle that inform the driver of safety, mobility, or environment-related conditions. State and local agencies are likely to install V2I infrastructure alongside or integrated with existing ITS equipment. Because of this, the majority of V2I deployments may qualify for similar federal-aid programs as ITS deployments, if the deploying agency meets certain eligibility requirements.
This page lists a broad range of resources that help planners, transportation engineers, decision-makers, and other involved in the ITS deployment process with valuable information about V2I technologies.
For Licensees
Guide to Licensing Dedicated Short Range Communications for Road Side Units - The goal of this document is to make licensing requirements transparent and best practices accessible to any organization, public or private, seeking to deploy "Connected Vehicle" Dedicated Short Range Communications (DSRC) Roadside Units (RSU) and services that support vehicle-to-infrastructure (V2I) applications.
Connected Vehicle Training
Visit the Connected Vehicle Program section of this website for more information about the U.S. DOT's Connected Vehicle Program and connected vehicle technologies.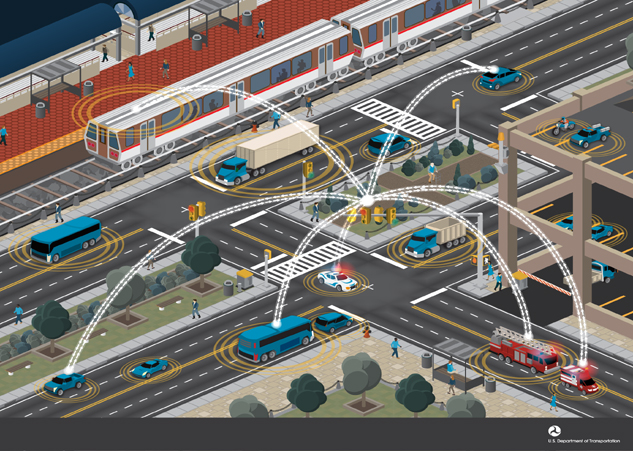 Program Resources
Research Contacts

Elina Zlotchenko
Program Manager
ITS Joint Program Office
(202) 366-1697
Elina.Zlotchenko@dot.gov